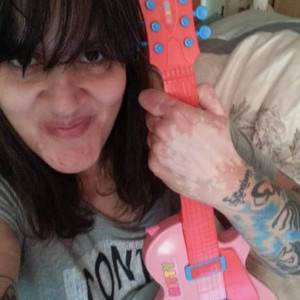 Dolly Sen has a brain of ill-repute. Because of this she is a writer, artist, performer and filmmaker.  Since 2004 she has exhibited and performed internationally. Her films have also been shown worldwide. Her journey as an artist has taken her up a tree in Regents Park, to California's Death Row, to the Barbican, Tower Bridge and the Royal Academy, Trafalgar Square, and up a ladder to screw a lightbulb into the sky. Dolly's creativity aims to put normality over her lap and slap its naughty arse.
More recently, she has sectioned the DWP and has art displayed in the Wellcome Collection's 'Being Human' Exhibition.
She is working class, Queer, interested in disability and the madness given to us by the world. She/They. She currently resides in Norwich in Norfolk.
Lately she has been working on her Section 136 project. Section 136 is a radical mental health art-action programme where madness is questioned, and institutional monsters are confronted using art, love, rage and sheep. Read more about it at www.section136.co.uk