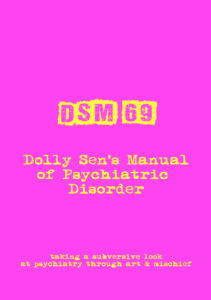 My book of subversive art and writings around psychiatry is published by Eleusinian Press but also available from Amazon and to order through bookshops.
Here are some reviews of the book!
"Packed with laugh out loud moments, I'd urge you that if you find you must read any copy of the DSM, make it this one." Recovery in the Bin
"Dolly Sen's DSM 69 is a work of genius. It is a roadmap through her creativity and her intent to use art as a way to change the narrative given her; to claim her life for herself and to find dignity in who she has become in the quest to reclaim madness as a source of humour and of comfort.'  Colin Hambrook, Disability Arts Online.
"Small book, powerful message." – Ru Gile
"I laughed so hard, tea came out of my nose." – Rachel Rowan Olive, Writer & illustrator
"Sen is a fresh and invigorating voice for those who are feeling exhausted by the systematic repression of the healthcare system . their voice is empowering and reassuring to people like me who feel so deeply disempowered and in need of reassurance. Amazon customer
"Must-have pocket book for the creatively maladjusted" Helen Spandler, Editor, Asylum magazine
"It is a visual and poetic absurdist primer for all those who want and need to understand what drives survivor activists, and the fundamental importance of humour to us – a must then for all students of psychiatry as well as their critics." Dr. Sarah Carr, Middlesex University 
'Despite Dolly Sen's Manual of Psychiatric Disorders being such a short book I had to read it in stages. The patient in me howled with laughter, bitterness and righteous anger. The clinician in me had a wry smile and heaps of shame as I know of so many who share the experiences of those brilliantly satirised in this book. This is a book which creates humour and tragic tears in the very same moment. Dr Sandy Walker, Southampton University.